10 years ago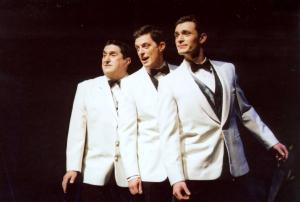 Jack O'Hagan's Humdingers - was a huge hit for the Malvern Theatre and Lilydale Athenaeum Theatre in Melbourne.
The high cholesterol piece of Australian musical fare had packed houses and won rave reviews. I greatly enjoyed my visit to see the show.
See pictures.
Here is what Theatre People wrote.
"The musical itself adopts a vaudevillian style, dashing from decade to decade of Australian history. O'Hagan's songs are uplifting and well ordered within the plot, while the small cast of six provides a homely atmosphere to the show. This blend of features causes the experience of watching the production to feel like you are sitting around the piano or radio with your family in the early 1950s.
The cast worked sensationally together, transforming character with ease and fluidity. With no evidence of opening night nerves, in both song and dance they were perfectly synchronised, giving the impression of a professional quality cast.
With hits such as 'Our Don Bradman', 'Dog on the Tuckerbox' and 'Along the Road to Gundagai', the opening night audience of Jack O'Hagan's Humdingers had a fantastic time and there is no reason you should not too."