13 years ago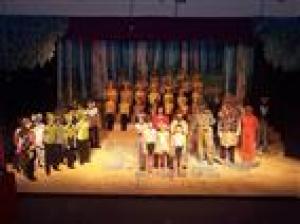 ♦ Snugglepot and Cuddlepie the Musical by Peter Combe is being performed by the Queanbeyan Players www.qp.org.au/ at the beautiful new Q performing arts theatre in May and June http://www.theq.net.au
♦ Hot Shoe Shuffle - is being staged from July 8 until August 1 in Adelaide and regional centres by Matt Byrne Media
♦ Stiff by April Phillips - the outrageous comedy is being presented by the Stage Door Dinner Theatre of Brisbane in May and part of June.
http://www.stagedoordinnertheatre.com.au/now_playing.htm
♦ The Boy From Oz returns to Melbourne in July with PLOS in Frankston
http://www.plos.asn.au/Productions/Boyfromoz/Boy%20Information.html
♦ Essgee Pirates and Essgee Mikado are being staged by four excellent High Schools this month. Auckland Grammar and Trinity Anglican College are tackling The Mikado and Aquinas College Tauranga and Chevalier College ( NSW) are staging Pirates.
♦ Back to the 80's and Disco Inferno ...There are 13 productions across Australia and New Zealand in May /June. The largest venue is Launceston College taking over the Launceston Theatre Royal for nine performances.