11 years ago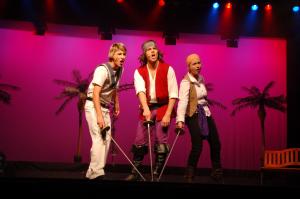 Essgee's Pirates of Penzance was a swashbuckling success in the Carinya Christian School, Tamworth in June.
Students from Year 4 to Year 12 presented a fabulous production.
Musical Director Debra Batley re-arranged the score (with permission) to suit an orchestra of school students.
All did not go to plan. The Pirate King broke his collar bone the week before opening! Another student stepped into the role and performed magnificently with the help of an in-ear monitor feed that was used less and less as the dress rehearsal week progressed.
There were amazing performances by all leads but Year 8 and 9 students playing the roles of Major General and Pirate Maid Ruth developed an outstanding sense of comedic timing and improvisation to bring these characters to life. Primary students mastered the sometimes complex dance routines and slap-stick comedy of the police and were a huge hit with the audience.