10 years ago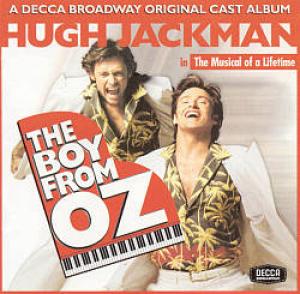 David Spicer Productions is pleased and honored to announce the release of the rights to stock and amateur theaters
of The Boy From Oz in the USA and Canada.
The Boy From Oz was the musical which won Hugh Jackman a Tony award in 2003 and sold out again in 2011 when he
performed excerpts of it in Hugh Jackman, Back on Broadway.
It also featured in a recent episode of Glee - as you can see from the DSP featured video.
To celebrate, the first 50 theaters which order a perusal by clicking
here
receive free a copy of Hugh's cast recording
including the tracks "When I Get My Name in Lights", "Everything Old is New Again", and " I Honestly Love You".
The Boy From Oz
traces the life and times of singer song writer Peter Allen. Raised in a small country town he went
on to meet Judy Garland, marry her daughter Liza Minnelli, become the darling of the Radio City Music Hall and even
penned a Broadway musical.
It is a spectacular showcase for a male performer with singing, dancing and acting skills. There are also powerful female
roles with fabulous solos,a large chorus and sparkling 19 piece orchestrations.
David Spicer, said "It's been a blockbuster for community theatre here – almost as big as Les Miserables. I am so
excited that US theaters can share in the fun and the success, " he said.
"In Australia we enjoy being able to practice American accents. Now some of your performers might have to get our their
old Crocodile Dundee videos to brush up on their Aussie accents."
David Spicer has been a theatrical agent since 1997.
DSP intends to release a catalogue tailored to the US in 2013.