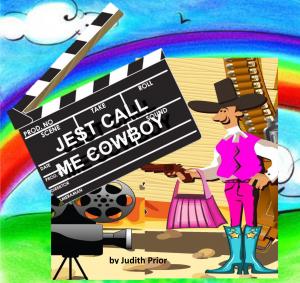 Although "Jest Call Me Cowboy" has been written as a sequel to "Jest at the West".....

This is a separate story, which just happens to begin where "Jest a the West" ended.

Cecil returns to the Silver Slipper to make the movie. The hilarity continues as all the original characters aspire to become movie stars. Read on as we continue the story of How the west was fun.

I

f you have an obliging piano player it might be fun to have him, or her, on stage as part of the saloon's staff. If you don't have strong singers, mimed recorded music may be the way to go. You might like to add more music, to suit your cast, or leave the music out altogether. The set consists of a bar, perhaps with a foot rail and spittoon, a small table with three chairs and perhaps a free standing set of batwing doors. Saddle up and settle back to enjoy the fun and frivolity, as the characters of Jest ride again..

Leeton Musical & Dramatic Soc. NSW. "Patrons described this play as possibly the funniest play we have done over the past years. Most favourably received!"
Authors
Related Shows
Photos
Plot / Synopsis
Suggested Music.
1. Comin' Round The Mountain.
2. Deep In The Heart of Texas.
3. On our Selection or Life gets Tedious Don't It?.
4. The cat came Back. Any song about a Stage Coach.
5. Grandma's Feather Bed.
6. Silver Dollar or any other Cowboy sing.
7. Tennessee Wig Walk.
8. A Little bit of Heaven or Does Your Mother Come from Ireland, Any Irish Song.
9. Cool Water. (Perhaps music only)
10. Act naturally or any song about the Movies.
11. Rag-time Cow-Boy Joe....Any Good Cow-Boy Song.
12. Just and Old Fashioned Girl or any Girl song.
13. Hard to be Humble or Mandrake or any cowboy song.
14. We're in the Money. Or any song about money.
Cast
MAGGIE MAY………………………….Saloon Owner, Good Sport
SUE ELLEN ………………………………..Sophisticated Saloon Girl
MARY LOU …………………………………Not so Sophisticated Saloon Girl
WHITE DOVE ……………………… Indian Squaw....Not too young
ANNIE…………………………………..Tom-Boy, wears trousers
SAM ………………………………………..Understanding Bartender
CECIL ……………………………………………. Film Producer, City Dweller
WILD BILL………………………………..Stagecoach Driver, Town character
* FATHER O'MALLEY…………………………Irish Priest
SHERIFF ……………………………………Very Gullible Sheriff
JOHNNY …………………………………Bandit, Has to be disguised as a Girl
GAMBLER …………………….Cameo role May be Doubled with Farmer
FARMER …………………………..Cameo Role
* Father O'Malley may be played as Sister Inebria.
Chorus of cowboys and saloon girls optional.
Sample Script
Production Costs
12.5% of Box Office Gross. Minimum $110 per performance. Scripts are $17.50 each or $165 for licence to photocopy.