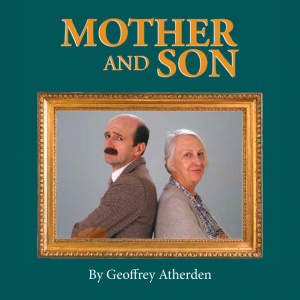 In 2018 Mother and Son was voted as the *best Australian television program ever.
The 42 episode series was produced over ten series for ABC Television broadcast to more than thirty countries, dubbed into French, German, Italian, Spanish and Mandarin and remade into fresh productions in another ten countries.
It centres on the relationship between Maggie (first played by Ruth Cracknell), who is becoming more than a little forgetful, and her middle aged son Arthur (Garry McDonald) who moves in with her when his father dies. He never leaves.
The series delighted audiences because it reflected real life situations and it maintained the dignity of Maggie, whose cunning saw her win in most episodes.
Below is one of the episodes.
In 2014 Geoffrey Atherden was commissioned to write a new stage play.
"The first thing I realised was how much the world has changed since I started writing Mother and Son. Back in the early 1980s there were no mobile phones, no internet, no Skype, no personal alarm systems, none of the bits of technology that we take for granted but which can be confusing for someone who is already confused. More attention has been given to the role of the carers and it's now more possible for the person who does the caring to get a break through some sort of respite care. Thinking about all this led to the story in this play." *(Poll by The New Daily.)
Video
Authors
Related Shows
Cast
Maggie: The mother, somewhere in her mid to late 70s
Arthur: The younger son, 40s
Robert: The older son, late 40s
Liz: Robert's wife mid 40s
Anita: Arthur's girlfriend, late 30s or early 40s
Monica: Nursing home or hostel resident 70s
Steve: Aged Care Assessor, 40ish
Two children are used in pre-recorded video segments
Bronte: Their daughter - 11
Jarrod: Robert and Liz's son – 9
One actor used for voice only
Male Voice The voice on the personal alarm system – Mumbai call centre
Other voices for phone messages
Sample Script
Production Costs
12.5%