10 years ago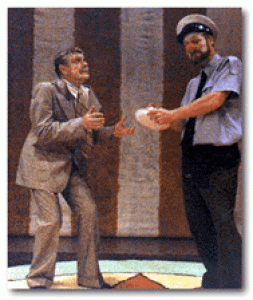 A big welcome to DSP to Melbourne writer and composer Cenarth Fox. His youth musicals, comedies and theatre restaurant works have been staged in 43 countries.
Here is a picture from Suburban Circus. It has 16 skits about suburban life. The garbos juggle your garbage. The school-crossing supervisor is on the high-wire. The parking cops are the clowns! The paperboys/girls are your trick cyclists.
Cenarth Fox's most popular musical is Germs.
Inside a human body a group of germs in amazing costumes spread disease. The human fights back with medicine. It's a fight to the death. But there's an enemy in the ranks of the germs. It's a bloodless coup.
Fabulous score and praise from around the world.
"This was one of the funniest plays I've seen in a long time and everyone who saw the show laughed heartily " Jennifer Billings
Scrubbers
Cenarth Fox will direct another of his favourite musicals in Melbourne this year.
It's called Scrubbers. It's about five women who sing, dance, tell jokes and serve fantastic cakes.
Oh, and afterwards they clean up after everyone.
Read Scripts and Listen to Music
You can preview the new scripts now. Others include
This is Your Captain Speaking : A Theatre Restaurant comedy set at an airport featuring a short sighted pilot and exotic passengers.
Remain Seated : A murder mystery set in a theatre.
Fogies : Musical Comedy set in a retirement Village.
Fairytales : Youth Musical where classic characters get mixed up.
Rat Race : Youth Musical set in a rubbish dump.