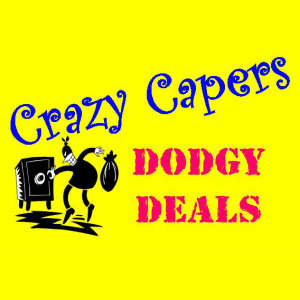 It's 1971 and the "Class of 65" are gathering at a seaside resort for a reunion weekend.

Frankie 'the fingers' Fuller and his intellectually challenged sidekick John 'Duggs' McGee book into the Grand Hotel with the sole intention of tunnelling through to the bank next door. Having asked for Room 1 or 2, their first disappointment is to find that Reception have misheard their request and they have been placed in Room 102 on the third floor instead. It gets worse when they discover that the school reunion party in the hotel that weekend is their old school !
For full perusal details visit this link.
Authors
Cast
Principals
Frankie 'the fingers' Fuller

- sees himself as a master crimiinal, but he's just a common crook in a cheap suit.
John 'Duggs' McGee

- classic 'swag-bag' burglar, happy with his lot. Intellectually challenged.
Tony

- all round nice guy, well liked by everyone except Vince. Successful but modest, engaged to Veronica.
Karen

- all round nice girl, equally well liked by everyone. Shy but determined, she has fond memories of Tony from her schooldays.
Veronica

- engaged to Tony. A social climber. She knows what she wants and is ruthless enough to get it.
Vince

- Medallion Man! Has a chip on his shoulder over Tony's success. Tries too hard at everything
Janet

- Man hungry wallflower. Would love to be trendy, but just hasn't got the nerve
Jane

- Also a man hungry wallflower. Inseperable from Janet and follows her lead in everything.
Pearl

- A hippy (female)
Dean

- A hippy (male)
Mr Bently

- the Hotel Manager
Sam

- the Hotel Waiter
Maria

- the Hotel Waitress
Supporting Cast
Sergeant Sharp, Constables Perkins and Postelthwaite - three incompetent policemen
Flynn - referee at the hockey match
Harriet, Sonia, Tracy, Julie - female hockey players & hotel guests
Richard, Alan, Terry, James - male hockey players & hotel guests
A pantomime horse (non-speaking role)
A spaceman/woman (non-speaking role)
'Class of 65' - the chorus (and dancers if required)
Instrumentation / Rentals
Orchestrations / Band Parts are available to buy as pdf's on a CD as follows # Conductor / MD # Flute # Clarinet 1 (Bb) # Clarinet 2 (Bb) # Alto Saxophone # Trombone # Trumpet (Bb) # Electric Guitar # Bass Guitar # Violin 1 # Violin 2 # Cello
Production Costs
14% of Box office.